ORLEN Group partner H2POLAND
ORLEN is an integrated multi-utility group listed in prestigious global rankings such as Fortune Global 500 and Platts TOP250. It was the first company in the region to declare a commitment to achieve net zero carbon footprint by 2050. The recent acquisitions (of the Energa Group, Grupa LOTOS and PGNiG) place the Group among the world's 150 largest corporations.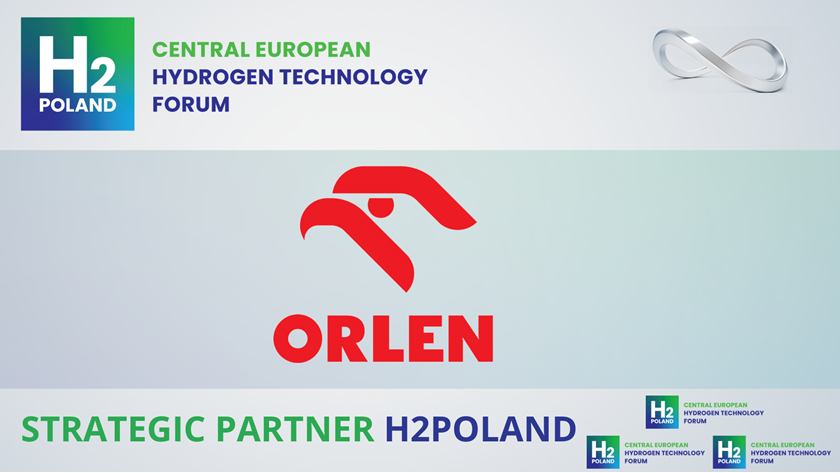 The ORLEN Group operates in nine home markets: Poland, the Czech Republic, Germany, Lithuania, Slovakia, Hungary, Canada, Norway and Pakistan. It owns state-of-the-art integrated assets with an annual processing capacity of over 45 million tonnes of various crude grades, and its retail operations are conducted through CEE's largest network of nearly 3,100 modern service stations. ORLEN's products are sold in over 100 countries across 6 continents. The Group is also a major player in Poland's electricity market, with power generation capacities of 5.1 GW, including 1.7 GW in state-of-the-art gas-fired assets and 0.7 GW in renewable energy sources. In the upstream segment, the Group has oil and gas reserves estimated at 1.3 mboe at the end of 2022.
In line with its updated strategy, the ORLEN Group's key goal is to ensure access to stable supplies of energy, fuel and gas from green sources. By the end of this decade, the Group plans to spend more than PLN 320bn on strategic investments, of which approximately 40% will be allocated to green projects, including offshore and onshore wind energy, solar photovoltaics, biogas and biomethane, biofuels, electric mobility and green hydrogen. It will also develop modern petrochemical assets and safe nuclear power generation.