Poland a key country on the hydrogen map of Europe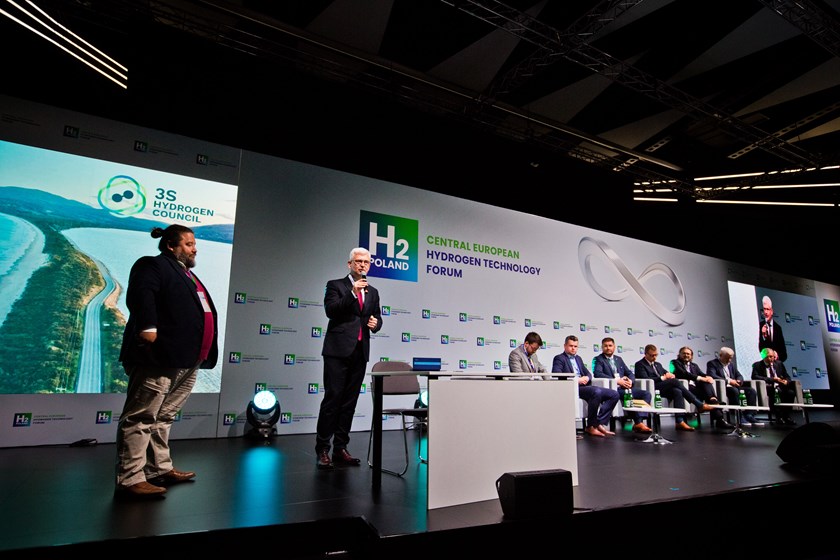 The 2nd Central European Hydrogen Technology Forum H2POLAND is taking place from 16 to 17 May at the Poznań Congress Center. A historic agreement was signed in the capital of Wielkopolska, which is the first supranational hydrogen initiative of Central European and Baltic states.
The cooperation that has been established will contribute to the creation of a hydrogen platform for the exchange of experience and taking joint action to support Central and Eastern European countries and local governments on the road to green transformation. The signatories were:
Vaclav Bystriansky, Czech Technological Hydrogen Platform (HYTEP) (Czech Republic)
István Lepsény, Hungarian Hydrogen Technology Association (Hungary)
Damian Mucha, Hydrogen Technology Cluster (Poland)
Sven Parkel, Estonian Hydrogen Cluster (Estonia)
Paweł Piotrowicz, Hydrogen Poland (Poland)
Oleksandr Riepkin, Ukrainian Hydrogen Council (Ukraine)
Ján Weiterschütz, Slovak National Hydrogen Association (Slovakia)
"This initiative is an excellent start to building business partnerships. The European Union must be strong as a whole and develop evenly," said Ireneusz Zyska, Secretary of State, Government Plenipotentiary for Renewable Energy Sources at the Ministry of Climate and Environment, during the signing ceremony.
The first day of the H2POLAND Forum featured several dozen debates and presentations, as well as a workshop on the "Strategy for the Development of Hydrogen Valleys in Poland" organised by the Ministry of Climate and Environment. The very high level of interest the event attracted shows that hydrogen is a very rapidly growing branch of the energy transition. "No longer RES but H2OZE," stressed Ireneusz Zyska, "Green hydrogen will be an immanent part of the energy system.
Participants at the event unanimously stressed that cooperation - cross-sectoral - is key to the development of hydrogen technology, hence initiatives such as the H2 Academy educational programme initiated by PKN ORLEN or the 3W Idea of Bank Gospodarstwa Krajowego linking business, science and the public sector. The benefits of hydrogen energy can also be seen at the H2POLAND exhibition area.
The second day of the Central European Hydrogen Forum H2POLAND will be opened by Marek Woźniak, Marshal of the Wielkopolska Region. The programme includes an online speech by Frans Timmermans and presentations of good practices from Poland and abroad. Admission to the Poznań event is free.