The Polish hydrogen NesoBus on the streets of Warsaw
Miejskie Zakłady Autobusowe in Warsaw are starting tests of the Polish hydrogen bus - NesoBus. It will transport Varsovians until mid-November. NesoBus does not emit exhaust fumes, and additionally purifies the air. This is the first hydrogen bus in the capital.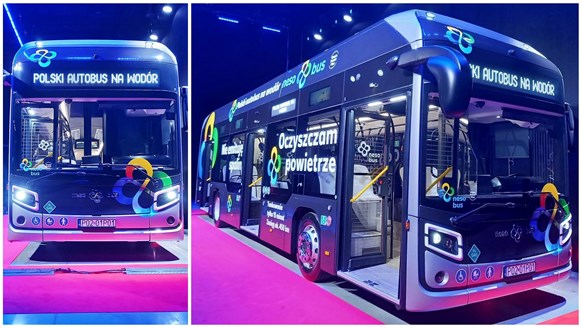 The bus tested in Warsaw was created by Polish constructors and engineers in cooperation with partners from Europe and around the world.
NesoBus is 12 m long, 2.55 m wide, 3.4 m high, its curb weight is less than 13 tons, it can accommodate up to 93 seats, including 37 seats. According to the manufacturer's declaration, its range is about 450 km. Refueling only takes 15 minutes. It consumes an average of about 8 kg of hydrogen per 100 km. The bus does not emit exhaust fumes, purifies the air, and the only thing it emits is water vapor. It has already been tested, among others in the Tri-City and Wrocław.
Interestingly, this is not a conversion or modification of a diesel or electric bus, but a completely new construction. The Polish hydrogen bus has an electric motor. It generates electricity in real time from refueled hydrogen using a fuel cell. It has its own "mini-power plant". Physically, the hydrogen in the tank combines with the oxygen taken from the air and produces electricity to drive the electric motor. There is no combustion process. As a result of the combination of hydrogen and oxygen in the fuel cell, the bus emits water vapor from the exhaust pipe. This water is fully distilled.
The start of serial production is planned for 2023 at the factory in Świdnik city.
Photo: Polsat